Building the 5.1 Wall: Producer James Guthrie Discusses Pink Floyd and Roger Waters' Surround Sound Plans at Academic Conference
---
---
BY MIKE METTLER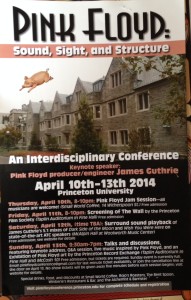 Pink Floyd and music academia don't usually mix. But that didn't deter Gilad Cohen and Dave Molk from organizing the amazing "Pink Floyd: Sound, Sight, and Structure — Interdisciplinary Conference," the first ever academic conference devoted to the mighty Floyd at Princeton University on April 10-13. In addition to scholarly discussions and live music, the linchpin was a three-album surround-sound listening session shepherded by Pink Floyd producer James Guthrie on Saturday and his keynote address on Sunday.
I was generously given the central sweet spot seat in the third row for Saturday's surround-sound sessions at McAlpin Hall at Woolworth Music Center. First up was the world premiere of the 5.1 version of Roger Waters' 1992 opus, Amused to Death, which was mixed by the symposium's guest of honor, James Guthrie, the man who's handled the direction of The Floyd's sonic legacy since 1979′s The Wall. Amused will be made available on multichannel SACD and 200-gram double vinyl from Analogue Productions. I haven't seen an official release date from my sources at Columbia/Legacy (Roger's main label) as I write this, but it may be out by September. Also, the fine folks at Acoustic Sounds are deeply involved with the release and specs of this important project, so stay tuned for updates.
Anyway, back to the listening details. After Amused, we got to hear the SACD 5.1 mixes of The Dark Side of the Moon and Wish You Were Here. (The entire three-album 5.1 playback was then repeated for an evening session.) The SACDs were cued up by assistant engineer Joel Plante on an all-purpose Oppo player, and all of the music was played back through a full surround array of quite formidable ATC Professional Series monitors and a pair of ATC subwoofers.
But before Plante cued up Amused 5.1, Guthrie spent a few minutes explaining how the mix came to pass. He admitted Amused was the most complicated stereo mix he had worked on when it was first released, and that gathering all of the sonic and sound-effects elements to "rebuild it from scratch" for the new stereo and 5.1 mixes was a  daunting process. When he explained the importance of doing Amused in surround sound to Waters, Guthrie said he told Roger that it wasn't about making money, but that "he had to look at it as an investment in his art."
And what an investment it is. The Amused 5.1 mix was as wide, tall, and ambitious as the music itself. Even on first listen, it was clear the amount of detail instantly evident would reveal even more depth and layers upon further review. The full-channel female chorus on "What God Wants, Part I," the character of Roger's impassioned, high-centered lead vocals on "Perfect Sense, Part II," and the dramatic echo-to-fade drum hit that both opens and closes "The Bravery of Being Out of Range" were immediate highlights. Most of the album's TV/audio chatter emanated from the rear left channel, though some did appear in the rear right as well (but only some). The swooping plane in "Late Home Tonight, Part I" moved from right to left before its super-low-end denouement rumble jarred the room. Jeff Beck's masterful guitar solo on "What God Wants, Part III" started in the center channel before panning to all all-channel, patented Becko-warble assault.
After the all-channel nature sounds of the title track — a callback to what was heard in the very first track, "The Ballad of Bill Hubbard" — faded away and the gathered audience applauded vigorously, Guthrie observed, "He's a clever boy, that one." Couldn't agree more. Programming note: Once some of the dust settles and we get closer to the actual release date for Amused to Death 5.1, Guthrie, Plante, and I will be discussing the ins and outs of this groundbreaking mix, as well as other Pink Floyd 5.1 recording minutiae, right here on SoundBard, so keep your eyes peeled.
At Sunday's keynote held upstairs in room 10 at McCosh Hall, Guthire shared a number of amusing and enlightening stories about his career as a producer, working on The Wall both studio and live, recreating "Money" for 1981′s A Collection of Great Dance Songs with a Linn drum-machine track later added to by Nick Mason, swapping the flight-check sequence on "Learning to Fly" with dialogue from Airplane! as a joke for David Gilmour, and so much more.
Guthrie also shared some great advice for budding producers and engineers, advice that all music lovers should take to heart: "Learn how to listen, and learn how to trust your ears." He championed what I like to refer to as the "personal investment" in listening — that he wants to be transported and taken on a journey by an album or a piece of music. (Me too.) Guthrie summed things up by borrowing a line his wife shared with him from the French poet Baudelaire, imploring us to "be drunk with fascination" and follow our passions, since "passion is infectious." He concluded by pointing out that being creative and following/sharing those passions get you that much closer to the source. Yeah, I can get behind all of that.
During the Q&A portion, Guthrie confirmed he'd like to do more Pink Floyd 5.1 mixes, but that it often comes down to a matter of the time available on his and the band's collective schedules, so "don't hold your breath." That said, he was willing to concede that The Wall seems to be the most likely next candidate in the 5.1 queue, but the album he'd be most interested to do in surround is Animals. When I interviewed Grand Vizier/drummer Nick Mason about the Immersion box sets, live quad, and surround sound back in 2011, I suggested that Meddle would be a good 5.1 candidate, as I'd love to hear "Echoes" in surround. Mason replied, "I think it would be great to do those, yes. Funnily enough, I'll tell you the other one I'd like to see: A Saucerful of Secrets. There's some great stuff on that. 'Set the Controls for the Heart of the Sun' would be great in surround, wouldn't it?" Can't meddle with any of that logic. (I'll be sure to nudge Guthrie politely/accordingly about all of these options when he and I next speak, don't worry.)
Take it from a true Pink Floyd aficionado: The Interdiscplinary Conference was a rousing success — nothing but high fidelity, first class the whole way. Wot's next, lads?
---
---