Sharp Jammin' Men: ZZ Top Grill Up Some Tasty Grooves at the State Theatre
---
---
BY MIKE METTLER
"Same three guys. Same three chords." It's a refrain that ZZ Top guitarist extraordinaire Billy Gibbons has been preaching from the stage for years, but it's how this little ol' band from Texas mixes up that deceptively basic formula with its own brand of down-home, blues-slathered gee-tar grease that keeps me coming back for more.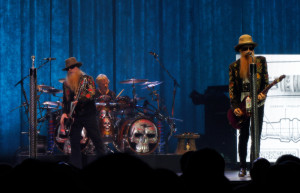 And they sure laid down the grooves during a tight 85-minute set at the State Theatre in New Brunswick, New Jersey on November 18, 2013. Over the years, I've seen the mighty Top play hockey arenas (Madison Square Garden in NYC on January 28, 1991 and June 6, 1994, and Meadowlands Arena in NJ on August 30, 1991) and mid-size venues (Radio City Music Hall in NYC on October 25, 1996, and the Beacon Theatre in NYC on November 10, 2005), and I definitely prefer them in the intimacy of the smaller setting. At the State Theatre, I took root in the center floor section — namely, Row J, Seat 105, about 15 rows back from the stage. My sightline found bassist Dusty Hill on my left and guitarist Gibbons on my right, with drummer Frank Beard just right of center. Not surprisingly, Gibbons's guitar was at the forefront of the mix, always tasty and rarely distorted — except when he coaxed and then wrangled some necessary feedback during the back half of "Chartreuse," a crunchy track from their underappreciated 2012 album, La Futura. Hill's bottom end — fueled by the furious finger-pluckin' style he's dubbed "The Pleaser" — locked with Beard's precision drumming to drop anchor for Gibbons to set off on his endless, blistering axeman explorations. Beard's riveting snare accents were cannon-grade lethal on "Pincushion." And Hill and Gibbons's throaty vocals meshed quite well most of the night, muddling only during the choruses of "Flyin' High."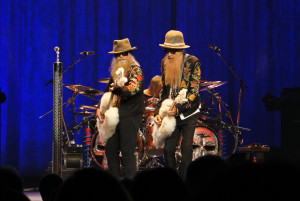 The set was sparse, with two six-foot-high screens flanking Beard's super-sleek skull-laden drum kit. Scenes from an ongoing ZZ Top on-the-road movie — meshing segments of their classic vintage videoclips with new footage — created an ongoing storyline that I'm gonna call the Brisket Western. Before diving into another La Futura gem, "I Gotsta Get Paid," Gibbons surveyed the clearly galvanized Jersey crowd, zeroing in on a woman down front waving the LP of 1983′s indelible Eliminator in the air. Gibbons took it from her, had his fellow bandmates sign the cover, and then asked the crowd, "Ok, we'll start the bidding at $150…" (Don't worry, she got it back intact.)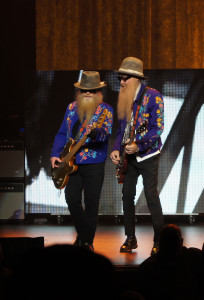 And Gibbons, of course, offered slab after slab of prime guitar soloing. My favorite Rev. Billy G jamola came during "Certified Blues," a choice deep cut from ZZ Top's First Album (1970), followed by an especially incendiary take on Jimi Hendrix's "Fire," which brought to mind the pyrotechnic sizzle of the version of that song I saw Gibbons blaze away on with the reunited Moving Sidewalks at B.B. King Blues Club & Grill in New York City back on March 31, 2013. (That was the first gig the Moving Sidewalks had played together in almost 44 years, and it's a night I never thought I'd see — and one I'll never forget.) Gibbons also wailed mightily during the crowd-pleasing one-two gut punches of set closers "Sharp Dressed Man" and "Legs." When Gibbons went long during his extended solo passage on the first encore, "La Grange," you could hear John Lee Hooker haw-haw-hawing his approval from the great beyond.
Same three guys and same three chords, but we continue to get endless variations on a theme from a trio that's been intact and in sync for five decades and counting. As evidenced by the muscle on display in their brisk State Theatre set, ZZ Top knows how to keep it sharp.
---
---