Slidin' Onto Wax: Guitar Prodigy Derek Trucks Spins LPs Wherever He May Roam
---
---
BY MIKE METTLER
"That's the cartridge you want — the one that'll get you kicked out of the house!" And that's Derek Trucks, empathizing over the price of high-end audiophile gear, both in terms of how it affects your wallet and your personal life. "I've had that conversation too," he adds with a chuckle. The good-natured Trucks drenched his sweet-toned slide-guitar stamp all over one of 2013's best albums, the Tedeschi Trucks Band's Made Up Mind (Masterworks; you can read my 4 1/2-star review of it in the Discs & Downloads section on the Sound & Vision website.) Here, Trucks, 34, and I commune over his favorite gear and LPs, the albums that made the deepest impressions on him growing up, how good Mind sounds on vinyl, and its thematic album parallel. (Hint: "Darling, won't you ease my worried mind" is a line from the title track.)
Mike Mettler: Is vinyl the format you like best for listening to music?
Derek Trucks: Absolutely. We even bring a turntable on the road with us. We'll listen to vinyl on the bus, and then when we're home, that's pretty much all we listen to.
Mettler: What kind of 'table do you have on the bus?
Trucks: It switches from time to time. We usually bring little portable models with us, because gear gets beat up on the road. The London Souls were out on tour with us recently, and we lent it to them. They had it on their laps in the van, spinning records! They were trumping us, so we donated it to them. I mean, if you put that much time and energy into listening to vinyl on your lap in the van when you're touring across the country — that's pretty hardcore. [both laugh]
Mettler: What albums do you bring with you on the road? Or do you just buy records at each stop on the tour?
Trucks: I'll usually bring about 10 from home, a mixed bag. And then we start at the first record store we see on the road. Everybody contributes. Two to five of us go out, and each of us will buy two to five records. It kind of builds as the tour rolls on.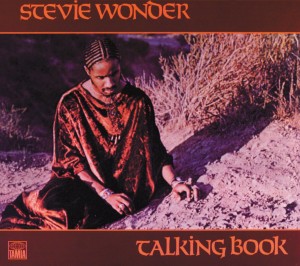 Mettler: Any records you have at home that you'd consider demo quality, something you'd put on to let people know, "Yeah, this is why vinyl is great"?
Trucks: There are a few. The track "You've Got It Bad Girl," from Stevie Wonder's Talking Book [1972] — that's in heavy rotation. Actually, there are a lot of Stevie Wonder tracks that work. You know, I also love the Sly Stone Fresh [1973] album; there's just something about the way that thing sounds. It kind of depends on the mood. There's a lot of go-tos.
But Stevie — he was such a master. He did five or six records in a row that were as good as anybody. Ever. Just staggering. And Where I'm Coming From [1971] — that first record where he goes out on his own and does everything himself — there's some great shit on there.
Mettler: I also love Innervisions [1973]. Put the needle down on something like "Living in the City" — it doesn't get much better than that.
Trucks: Yeah, that's a good day. [chuckles]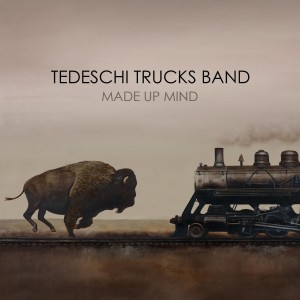 Mettler: A really good day, Ok, now walk me through the process of getting Made Up Mind onto vinyl.
Trucks: Susan [Tedeschi], Bobby Tis [engineer], Jim Scott [producer/engineer], and I were pretty anal about how it got done. We took about four or five shots at it. It was a process, but we finally got it right.
We've mixed our last few records down to tape on the vintage 1976 Neve console in our studio [Swamp Raga Studios in Jacksonville, Florida], and the whole idea is that you should be able to turn it up pretty loud and it should still be warm. The way we approached this mix is we didn't overcompress it, we didn't make it overly loud when we were mastering it, and we wanted you to be able to crank it up when you're playing it. When you do that on a good system, all the vinyl goodness is right there for you. [laughs]
Mettler: An intense track like "The Storm" [Side 4, Track 1], which is one of your guitar showcases, must have required some extra mixing TLC.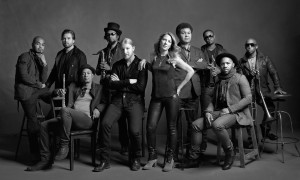 Trucks: Totally, especially with a band this big [10 musicians]. There are a lot of frequencies covered in a song like that one. It has to be right. In the end, I feel good about where the sound of this record ended up.
Mettler: Is there one Made Up Mind track that's your favorite one to drop the needle on?
Trucks: You know, it changes from time to time, but the last time I listened, "It's So Heavy" [Side 3, Track 1] hit me right. That's a great track. The feel and the sound of it, and the way Susan's voice was captured — it just feels so warm and comfortable.
Mettler: Warm and Comfortable — maybe that should be the title for TTB's next album.
Trucks: [laughs] That's right. That's good.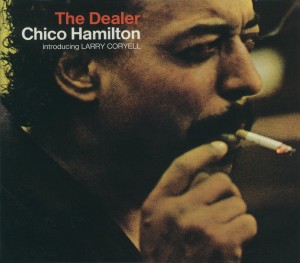 Mettler: You can have it, no charge. What other albums are you currently spinning?
Trucks: Let's see. There's this Chico Hamilton record called The Dealer [1966, on Impulse!]. That was one Chris Robinson dropped on us last time we were touring with The Black Crowes, so it's been in heavy rotation. Then there are a few Taj Mahal records: Giant Step [1969] and Taj Mahal [1968]. And I love that Johnny Jenkins record, Ton-Ton Macoute! [1970], which was a Capricorn record. It's basically the early Allman Brothers backing up Jenkins. He was a Georgia old-school staple, and he even had Otis Redding in his band [the Pinetoppers] at one point. That's a bad-ass record. Pretty funky stuff.
Mettler: What kind of gear do you have in your home setup?
Trucks: We have a VPI Scout 'table in the house, and a model up from that one out in the studio. We have B&W Signature 800 Series speakers, and they look like R2-D2; those things are monsters! [laughs] We have a Manley Snapper for the bottom end, a Manley Stingray iTube for the mids, and we're using a Manley Steelhead for the preamp. It's a pretty crushing setup.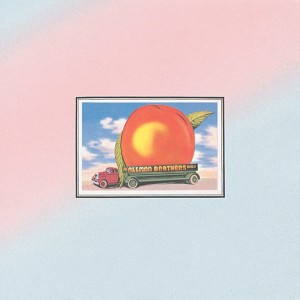 I remember a few years ago when I finally got the system up and running, I'd bring people up to the stereo upstairs and would play them a few records, and [The Allman Brothers Band's] Eat a Peach was one of them. First I'd play it on CD because it sounds really good on my system, but then halfway through I'd switch over to the vinyl, and then the whole world would open up. It just starts feeling like music again. I have an original pressing of Peach, and the guitar sounds on "Blue Sky" — those are my favorite Duane [Allman] moments on record. It's just relaxed and in the cut, and that's the way it should be.
Mettler: Did you ever think growing up that you'd wind up playing a lot of those tunes yourself with the people who made them? Was it in the back of your mind?
Trucks: I never thought I'd get a chance to play that music with them, no. That stuff seemed like it was from a time passed. The records that I grew up listening to in heavy rotation were [The Allman Brothers Band's] At Fillmore East, Eat a Peach, the Layla record, and Elmore James [Blues After Hours]. Those were the four LPs that were spinning from before I can even remember, and from when I first started playing around and out. To get to play the majority of that music with those artists — it's definitely been surreal.
But listening to that music now — something I've noticed with playing them on CD is it feels like an approximation. It's cold. And then you put on vinyl, and you're in it. There's something more human and musical about it. I also find that I end up listening longer to vinyl. I don't get fatigued.
Mettler: I can totally relate to that. Let's talk about the last track on Made Up Mind, "Calling Out to You" [Side 4, Track 2]. In my album review, I called it the "acoustic digestif," the perfect ending to the record. Listening to it closely, I heard some foot-tapping going on all throughout. That was you, right?
Trucks: Yeah. When we cut that tune, we had just finished writing it, and it was really the first time we played it all the way through. Susan was about 4 feet away from me on her vocal mike, and the guitar was bleeding into the vocal mikes and the guitar mikes, and my foot was just tapping on the floor. When we were listening back to that demo, there was something about the way it felt and the honesty of it that I kept thinking, "That's it. There's no reason to add anything there."
Mettler: I like hearing those kinds of bleeds. That sounds more organic and more honest to me. Sometimes you can take the emotion right out of a mix if you're trying to be too perfect.
Trucks: Oh yes, absolutely. That's one of the hardest things: When you get into the studio and you have the ability to take as much time as you want, knowing when to stop is tough. Step away from the board! [both laugh]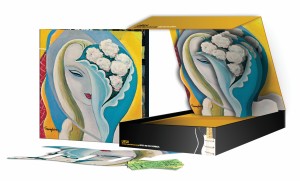 Mettler: There's a parallel between "Calling Out to You" and the last song on an album you know inside and out: "Thorn Tree in the Garden," from Derek and the Dominos' Layla and Other Assorted Love Songs. Both Made Up Mind and Layla end in a similar way, emotionally speaking.
Trucks: "Thorn Tree" is a great track, and it's such a great way to end that record, yeah. You know, I wasn't thinking about it directly at the time, but now that you mention it, I can see it.
I think the first time I remember hearing our record end with that song, I thought it sounded like a quiet prayer. And for almost every record I've made, that's the sentiment I want to go out with. Without even knowing the way that record was sequenced originally, it's a song that sticks with you. It evokes such a feeling that it becomes the bottom line. I love records that go out that way — they aren't yelling at you, but they're kind of letting you down softly. [chuckles] You know, talking about the record like this makes me want to go hear the whole thing again!
---
---