The Only Way to Travel: Flying Solo with Former Moody Blues Mellotron Maven Mike Pinder
---
---
BY MIKE METTLER
"We would have done surround sound at the time if it had been available." Original Moody Blues keyboardist Mike Pinder is discussing the always-enveloping signature orchestral sound of the band he was a part of for its first 15 years. Much of the Moodies' core "Classic Seven" catalog has since seen a series of 5.1 releases in the interim, and Pinder's innovative usage of the mellotron helped take many of those mixes ("Higher and Higher," "Watching and Waiting," "Legend of a Mind")  to the threshold of aural perfection.
Pinder cut his first solo album, The Promise, in 1976, while the band was on a break. After leaving the group 2 years later and concentrating on computer-related projects in California, Pinder eventually followed it up with Among the Stars in 1994. Both releases, along with a behind-the-scenes DVD, are part of a new Cherry Red/Esoteric Recordings box set named after both albums. Here, Pinder, 72, and I discuss the evolution of production values, the joys of the vinyl experience, and his favorite mellotron moments.
Mike Mettler: Did the changes in recording technology in the almost 2 decades between the time you worked on and composed these two solo albums play a role in your production choices?
Mike Pinder: Of course. We used to have to layer guitar, strings, piano, flutes, drums, percussion, and any other orchestral instruments we wanted with the use of two 4-track machines. We would lose quality as we bounced things down to make room for the next instrument. Mixing often had to be done in the moment. Look how far we have come with production techniques in 40 years. One of the best things to come out of new technology is the home studio. Home recording was out of reach for most musicians of my generation. Now it is a more level playing field with writers being able to create without the support and funding of a record company.
The only negative that comes from anyone having access to home recording tools is that listeners have to find the talent today. You would think the Internet would make it easy to find great songwriters, but I find it is just the opposite. There are too many semi-talented people writing and recording music. It is a nightmare to wade through dozens or hundreds of songs to find a gem or a songwriter who is saying something. If record companies were not so vapid, greedy, and corrupt, they would serve a purpose, if only to act as scouts to filter the talented to the top – kind of like the record companies in the '60s. And there is always room for an array of musical talent, from The Beatles to The Moody Blues. We were all musically varied in our approach. It was not a homogenous, one-size-fits-all musicality.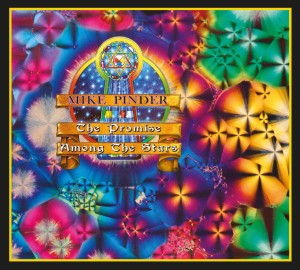 Mettler: What are your favorite songs on these records? I happen to be partial to The Promise's "You'll Make It Through" and "Air," as well as Among the Stars' "World Today" and "Waves Crash," to name but a few. And, of course, it's also nice to hear [ex-Moodies member] Ray Thomas' signature flute on one of the bonus tracks, "Empty Streets."
Pinder: I recently listened to "World Today" myself, and I am sad to say, not much has changed in the world since I wrote that in the '90s. I would like to see our world at peace and an end to hunger on our planet in my lifetime. I really liked the instrumentation and jazz-rock fusion that I achieved on that song. I had great players on that album who, like me, grew up with blues, jazz, and rock influences.
And this box set was a lovely opportunity for me to include two songs, "Waves Crash" and "Empty Streets," written by my sons Michael Lee and Matt, a.k.a. The Pinder Brothers. They are both outstanding musicians and writers. Our longtime Moody Blues producer, the late Tony Clarke, produced those tracks, and it was great to have Ray Thomas playing flute too.
Mettler: Are you still a vinyl fan? Do you feel analog is the best way of listening to music?
Pinder: I still like the warmth of the vinyl experience. This is something that is just not captured in any contemporary medium. My friend Tom still has an extensive vinyl collection. In fact, Tom and I recently listened to Horowitz at Home on Deutsche Grammophon and had this same conversation. I also love the beauty of the album artwork and reading liner notes about the musicians as I listen to the music.
But I have also enjoyed all the advantages that technology has brought us. I do like the compactness of CDs and the easy access of digital. It is very convenient to send tracks over the Internet and have a library on a thumb drive.
Mettler: What did you listen to when you were growing up? Do you recall the first record you bought with your own money?
Pinder: I was the youngest of four siblings and listened to records my sisters bought. The first recordings I had access to ranged from songs by Nat King Cole to the orchestration of Mantovani. I also listened to a lot of radio. I loved radio and what I call the "theater of the mind." I loved comedy and listening to The Goon Show with Peter Sellers and Harry Secombe. The first record I remember buying for myself was "Rock Around the Clock," by Bill Haley & His Comets.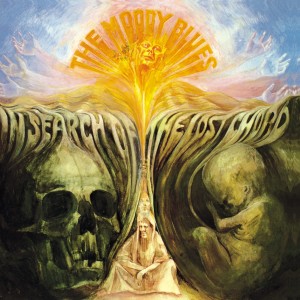 Mettler: Is there a particular favorite mellotron performance of yours on record with The Moody Blues, one that you feel is the best in terms of sound quality?
Pinder: [Producer] Tony Clarke, [engineer] Derek Varnals, and I were always trying to create new and innovative sounds. A good example of my signature mellotron swoops are in Ray Thomas' song, "Legend of a Mind" [from 1968's In Search of the Lost Chord, perhaps best known for its "Timothy Leary's dead" refrain]. I used the speed control on my Tron to create the swoops, and we would take advantage of the stereo effects to make the mellotron sound and the movement come from one side to the other side, i.e., left-right, and right-left. And I would use the reverb to make it come forward and back in the track as well. The listener would get an almost-3D sound that was unique for that time.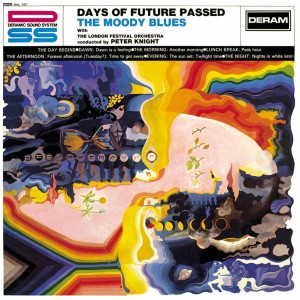 Mettler: Speaking of that, how do you feel about the various surround-sound mixes in the Moodies catalog? Personally, I feel the 5.1 mix for Days of Future Passed gave extra breadth to the dimensionality inherent in the original recording itself – especially your parts on "Dawn Is a Feeling," and what both the band and the London Festival Orchestra played on "Nights in White Satin."
Pinder: I agree. I love the surround-sound mixes. We would have done that at the time if it had been available.
Mettler: Did you also like the quad mixes Clarke and Varnals shepherded back in the day?
Pinder: Derek always did a wonderful job. He was innovative and talented. He and Tony Clarke were adept at driving the ship. We were all very committed to our music and it was an adventure. Lots of fun and laughs as well. Everyone worked very hard. We had creative freedom, and we were fortunate to be allowed to try new things. It was our musical wonderland.
Mettler: Finally, how do The Promise and Among the Stars sound to your ears now, a few decades later?
Pinder: I am really grateful to listen back to my music and feel it stands the test of time. I always wanted to create melodies, counter melodies, and arrangements that connected with people and tell shared stories of our humanity. We all have the same hopes, dreams, and loves. It is the job of the writer to tap into the collective consciousness of the listener with the story interwoven with melody and an orchestral backdrop.
I don't think a true artist can follow trends. I always tell young people to just write from your center and paint the picture your way. It will ring true with someone.
---
---