Just Breathe: Kris Dirksen of Methodic Doubt on Scoring Cinemax's Hard-Hitting Banshee
---
---
BY MIKE METTLER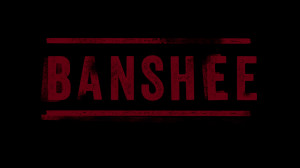 "Just breathe." That was one of the main kicker phrases for the first season of Cinemax's hit show Banshee, and it's an apt description for what viewers needed to remember to do in order to keep up with the show's breakneck pace of pulse-pounding action, sex, drama, and deep character intrigue. Banshee's top-drawer original score only adds to its inherent grit, and credit must go to the duo known as Methodic Doubt for turning in such a haunting and foreboding soundtrack week after week.
Methodic Doubt is a Los Angeles-based composing partnership comprising of Vancouver native Kris Dirksen and Pittsburgh-bred Dane Short. With Season 2 now coming to a head (Episode 9 airs March 7, and the season finale airs March 14), I spoke with Dirksen about the duo's creative process, the gear they use, and what might be next for the show. "What are you going to do now?" Sugar Bates (Frankie Faison) asks Sheriff Lucas Hood (Antony Starr) at the outset of Season 2. Read on, says I.
Mike Mettler: Why do you think Banshee has struck such a chord with its continually growing viewing audience?
Kris Dirksen: It's not a one-dimensional experience. Although some critics quickly dismiss it as a low-brow, sex- and violence-driven show, I think that's far from the truth. If you want an entertaining, action-packed show, it has that element, but there's so much more to it. People who get the show really seem to love it and devour it, and most of the show's growing success seems to be the result of word of mouth rather than hammering people over the head with marketing.
Mettler: Dane had been using the Methodic Doubt name first before you two got together. How did you guys get into the profession of scoring movie and videogame trailers and, eventually, television?
Dirksen: Out of college, Dane began working as music supervisor at a trailer house in L.A. At the same time, I had started working at an independent hip-hop label, and our paths crossed in that world. Over the next few years, we became friends and started writing music together. After a lot of grinding, our music became self-sufficient, and we started working full-time together under the name Methodic Doubt.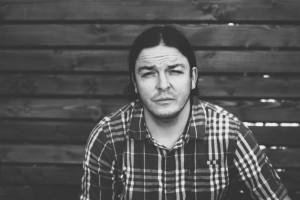 Mettler: Tell me about all of the gear you guys have in your studio and what you do with it.
Dirksen: I started off composing on a laptop using virtual instruments, plug-ins, and a cheap Squire guitar. As our music began to make money, I gradually descended into the gear pit. I don't have a console and work within the box using Logic, but I do have a decent collection of outboard gear — Shadow Hills, Thermionic Culture, Manley, Chandler, API, and more — so everything tends to hit a piece of analog gear at some point in the process. I've also been a long time UAD (Universal Audio) user, and I still lean on my ever-changing collection of plug-ins and virtual instruments. Though I love the sound of my analog gear, I'm not really a purist in that regard. Composing for TV and film is such a deadline-driven job that I tend to take a pragmatic approach to what I use — if it sounds good, I don't really care where it comes from, whether it's a $50 plug-in or a $5,000 outboard compressor.
Instrument-wise, the palette is always changing based on what the project calls for. Guitar is the main instrument I learned to play music on, so that tends to be my main addiction. I have a mountain of effects pedals and way too many guitars and amps at this point. I've been digging tape echoes (Space Echo, Echoplex) and oddball combo amps from the '60s like Silvertones and Supros the last few years. In terms of synths, I have a growing Eurorack modular and stuff from Moog, Dave Smith, Elektron, Teenage Engineering, and others. Beyond that, I'm always on the lookout for strange instruments like the Marxophone, which I've been using for Banshee.
Mettler: Take me through your thought process for creating Banshee's main title theme. Did you see the title footage beforehand, or were you given an idea of how it would unfold? What instruments were used on it? It's hard for me to pick a "favorite" moment in the theme per se since I love it as an entire piece, though I do love the point where it literally grinds to a brief halt [around 0:30] before picking back up again.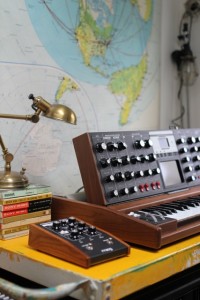 Dirksen: We worked with Jason Yaitanes from Tin Punch Media, who designed the title sequence, and when it reached me, it was still quite rough in terms of the imagery. Since the title sequence changes for each episode, both in terms of the imagery and the music, our main focus at first was just working out a core foundation based on the rough cut. It took a few attempts to find a direction that worked. The title was originally temped with a slow-brooding trip-hop song that was interesting, but ultimately the producers wanted something with more tempo and grit.
While the back half of the title theme tends to stay the same each episode, the opening sections change based on the tone and level of energy in the preceding scene. The goal has been to make the score and the titles a fluid and interconnected piece, so if we're coming out of an action sequence, we'll slam into the titles and keep that energy moving. Showrunner Greg Yaitanes wanted to use that 75 seconds as an extra piece of real estate to help tell the story rather than having a static sequence viewers would be tempted to fast-forward through.
Musically, the core of the song is meat-and-potatoes guitar, drums, and Fender Rhodes, but I used an old tape machine to add various wobbly effects and stop downs. Banshee is full of flawed characters, so the idea was to add subtle imperfections to the theme to reflect this.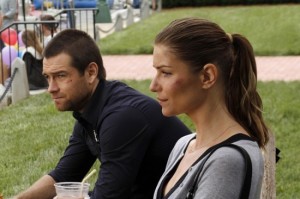 Mettler: Tell me about composing the Lucas/Carrie [Antony Starr/Ivana Milicevic] theme in Season 1. Did you have an ambient influence in mind there? What instruments were used? How has their relationship changed musically for what you've been scoring in Season 2?
Dirksen: There was definitely an ambient influence, yes. The theme originally sprung from the dreamy Lucas/Carrie flashbacks in Season 1. The basis of the theme is it's ambient, ethereal, Brian Eno-esque textures, and as the pair's relationship has developed, we've adapted the instrumentation to reflect the rollercoaster they've been through and the conflicted yearning that exists between them. Babak Najafi's direction in Episode 205 ["The Truth About Unicorns"] was a departure for the show, and a great vehicle to explore that theme and expand on some of the more ambient elements of the score.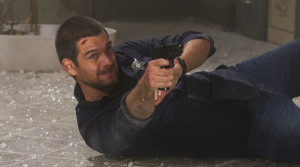 Mettler: What's your approach for scoring the more "primal" scenes — the fights, shootouts, chases, sex scenes, etc.? Banshee operates on many raw emotional nerves that always seem to be bubbling up under the surface, held back semi-reluctantly but always seemingly on the brink of explosion.
Dirksen: It tends to be a case-by-case basis. Often we'll look at those types of scenes and try to approach them in an unexpected way. There's definitely a place in the show for heavy, visceral action cues, but taking the opposite approach to a fight or shootout can often yield more interesting results.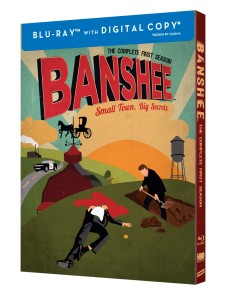 Mettler: What would you say are the differences in scoring Season 1 as opposed to Season 2? Could you cite a scene or two from Season 2 as examples of a different/evolved approach?
Dirksen: Banshee was our first television scoring gig, so there was definitely a bit of learning to be done in the first season. Fortunately, Greg Yaitanes and Cinemax were very supportive of us creatively and gave us free reign to experiment and develop a signature sound for the show, so it's been a pleasure to work on from the outset. I wouldn't say that Season 2 has been different in terms of the scoring — if anything, it was a matter of refining and building on that base. During the first season of a show, there are going to be growing pains as you figure out what works and what doesn't. Returning for Season 2, it seemed that everyone involved had really stepped it up a notch.
Mettler: What was the first record you bought with your own money as a kid? What kind of impact did it have on you? Is there an album that continues to resonate with you today? Did it inspire you to want to create music?
Dirksen: M.C. Hammer and Vanilla Ice were likely the first tapes I owned, but Nirvana's Nevermind dropped as I was entering junior high. I grew up a couple hours north of Seattle, so grunge had a huge influence on me early on and inspired me to pick up a guitar. Bands like Dinosaur Jr., Mudhoney, Sonic Youth, and Pavement were hitting at the same time and made me much more interested in what was going on outside of the mainstream. Living in the Canadian suburbs, pre-Internet, it took a lot of effort to seek out indie music, as it wasn't readily available. As composers, we've always attempted to avoid the status quo and focus on doing our own thing, so I'd imagine those early records were a big part of instilling that outlook.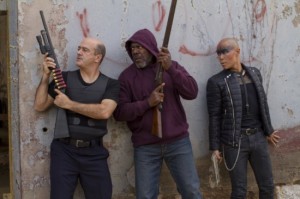 Mettler: Who is your favorite Banshee character or characters to write music for?
Dirksen: Exploring the Lucas/Carrie relationship over the past couple of seasons has been rewarding, so it's been a great opportunity to indulge in my love of post-rock and ambient music. I don't want to give away the context, but we reprise their theme in the Season 2 finale in a big — and I think interesting — way. That said, the show has such a varied and unique cast of characters, it's nice to be constantly shifting gears and exploring new themes and musical directions.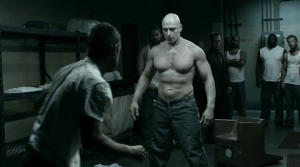 Mettler: What is your personal favorite Banshee scene or episode?
Dirksen: Episode 6 ["Wicks"], which delves into Lucas' time in prison, is my favorite from Season 1. O.C. Madsen killed it directing that episode, and brought a very cinematic feel to the table. So far in the second season, Episode 5, "The Truth About Unicorns," is my pick. Both visually and musically, it stands out as a unique beast. It's exciting to work on a show that's willing to constantly evolve and take risks.
Mettler: Banshee has been renewed for a third season. Is any pre-production underway? Are you already thinking about what you'll be writing for it?
Dirksen: We usually don't start working until episodes are ready in June/July. I have no idea where Season 3 is headed since this season ends with such a bang!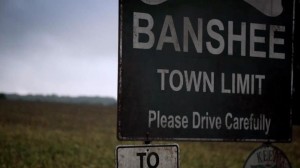 Mettler: Man, I can't wait for that. Ok, last question: Your dream scoring job would be what, and why? Or does Banshee fulfill that?
Dirksen: As a composer, you're ultimately a tool of the people who hire you. Once you get to the TV-network and movie-studio world, there are commercial considerations and politics that factor into the process, which can often result in the composer being given a very small degree of creative latitude. You're given specific direction and expected to not stray from it. Thankfully with Banshee, there's none of those limitations. Greg and the other producers on the show built an environment that encourages creativity and risk-taking. Cinemax has been nothing but supportive. In that sense, the degree of creativity we've been given is really a dream come true that most composers don't ever get to experience.
---
---